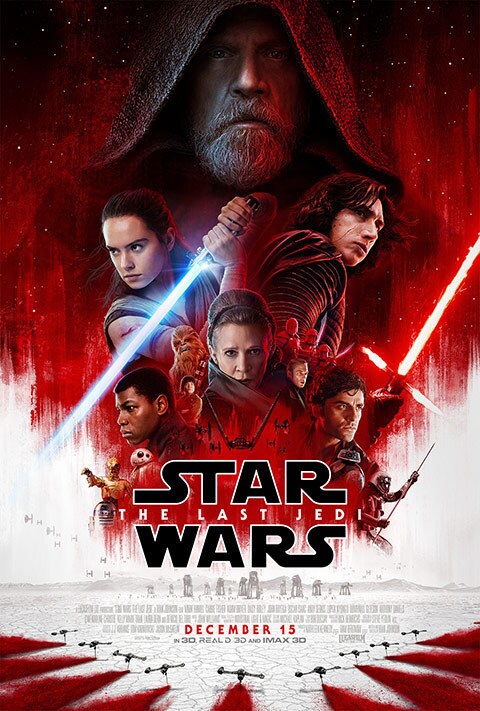 Hello, everyone. Welcome back to the Media Dome!
Today I'd like to not necessarily do an all-out review of Star Wars: The Last Jedi, but I still want to take time to discuss the cultural impact this movie has had. I'll probably give a more complete review in the future once I review the other films in the Star Wars Franchise.
Star Wars: The Last Jedi continues the highly successful Star Wars franchise, as a young woman named Rey goes off to find Luke Skywalker, the legendary Jedi master. She is sent by his sister Leia in order to take him to the rebel resistance as someone who can help take down the First Order. Meanwhile, Finn, Poe, and a new character named Rose are trying to help the Resistance escape the power that the First Order has over them before its too late.
My general thoughts on the film are very good. It was beautiful storytelling and I felt like the characters were very well-developed. The acting was as strong as usual, and the battle scenes were cool. Both of the major storylines in this movie flowed together nicely as well, with Luke and Rey's story being darker in tone while Poe, Finn, and Rose had a lighter tone in theirs. Both major plots flowed well together and created a nice little package of a film. I'm not saying that it's perfect, but it's definitely a well-made film and was enjoyable all-around.
However, fans seem to not think the same way as many of the critics. On Rotten Tomatoes, an official movie review website, The Last Jedi has a very stellar score of 91/100 from professional critics. The pros seemed to love this film to death. However, fans, by comparison, gave this movie a very average, mediocre score of 50/100. Why are fans disappointed by such a movie? Well…my theory is that fans desired their own theories and expectations to be proven as correct, but that ended up not being the case. For a while, fans have theorized many stories that could be possible from this film, such as Rey becoming a "gray Jedi" and becoming more of an anti-hero rather than a full-blown hero. There's also been the fan theory that Rey is Obi-Wan Kenobi's daughter. For context, Obi-Wan was an important character in the prequel trilogy and main trilogy and was both the Jedi master of Anakin Skywalker and Luke Skywalker, who are the two main protagonists in both the prequel trilogy and the original Star Wars trilogy, respectively.
When Last Jedi was released, many fan theories were proven to be false, as director Rain Johnson took the story in an unexpected direction. This made many Star Wars fans mad. Yes, someone's expectations were "ruined." However, does that make Last Jedi a bad film? Certainly not! The issue here is that a select group of fans weren't pleased with the film simply because it wasn't what they exactly wanted, even if the movie is acclaimed by critics and is killing it on the box office. My recommendation to people who have yet to see The Last Jedi is: take the movie as it is. Don't have any expectations going in. When you go into the film with an open mind and no strong presuppositions, it will help you enjoy the movie a whole lot more. Last Jedi was excellent storytelling, and I would certainly recommend watching it. Just, please remember that something being different or particularly unexpected does not make it bad.
Until next time, everyone!
Sources:
https://www.rottentomatoes.com/m/star_wars_the_last_jedi/
https://www.elitedaily.com/p/is-rey-a-gray-jedi-star-wars-fans-have-a-theory-about-the-last-jedi-7211779
https://www.huffingtonpost.com/ben-ostrower/rey-is-obi-wan-kenobis-granddaughter_b_8911656.html